Digital
Flat River Community Library's digital collection provides you with 24/7 online access to eBooks, eAudioBooks, magazines, music, movies, and information through a variety of services.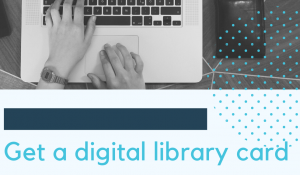 Register for a digital library card to access library materials here!


Access thousands of movies, television shows, music albums, audio books, and eBooks! Download the free hoopla digital mobile app for Apple or Android or access with your computer. Need some help getting started with hoopla digital?


Digital editions of your favorite magazines as well as eBooks and audio books! Read directly in your internet browser or download the free RBdigital app to access on your smartphone or tablet. Thank you Friends of the Flat River Community Library for sponsoring this new service! Need some help getting started with digital magazines?


Download electronic books and audiobooks for your smartphone, tablet, and computer.

Lynda.com offers more than 145,000 courses on a variety of topics, from marketing and customer service to software and graphic design, and Flat River Community Library members receive unlimited access to a vast subscription library of high-quality, current, and engaging video tutorials taught by recognized industry experts.
Michigan eLibrary Resources contains the full-list of electronic resources.
* Database provided by the Michigan eLibrary (MeL). For a complete listing of databases, click here.